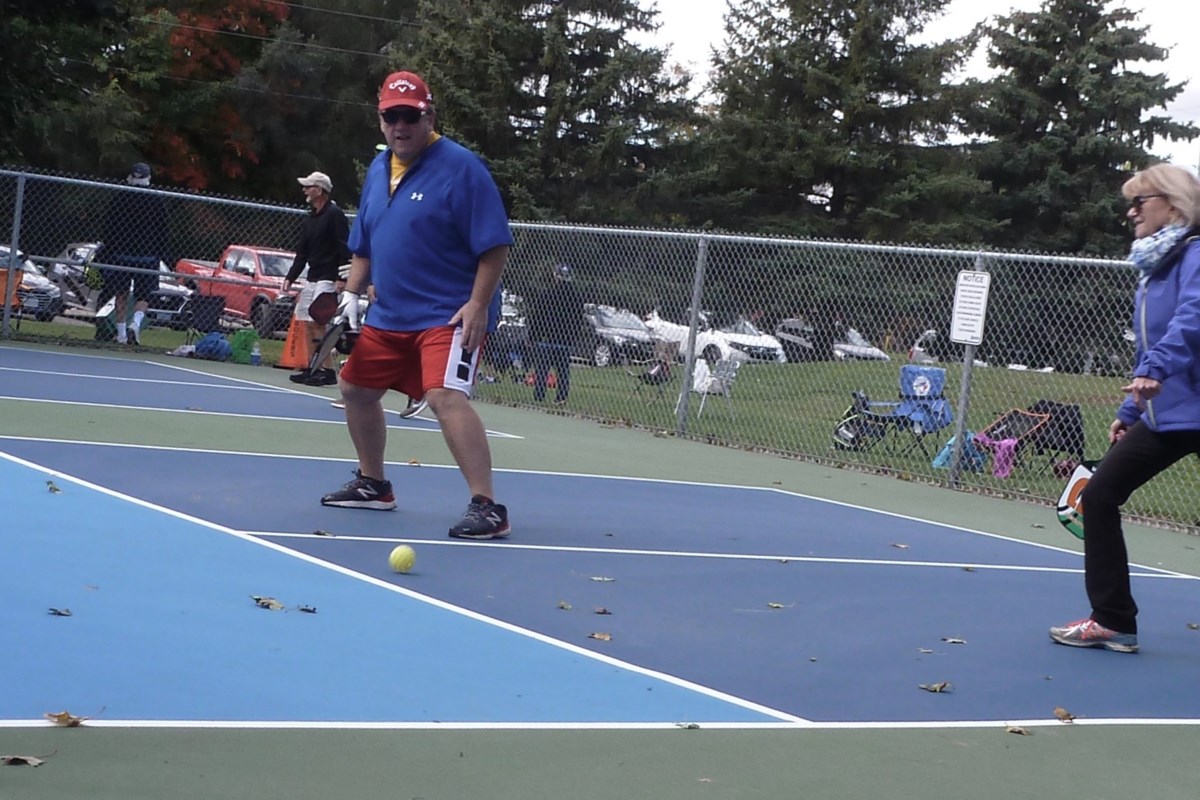 A new pickleball court will be unveiled in a public forum
The event will take place in person at Painswick Park and city staff will set up a canopy tent where the park's design concept will be exhibited
Pickleball anyone?
Feedback is the focus of what the city calls a "public information center" on Wednesday, Aug. 17, from 5 p.m. to 7 p.m. at Painswick Park, 231 Ashford Dr., Barrie.
Last March, City Council approved a motion to investigate the construction of professional-grade pickleball courts at this location. This would consist of eight new pickleball courts, complete with lighting, removing the soccer field, moving the ball diamond, building a shade structure and extending the lighted walkways.
Also part of the motion approved by council was holding a public information center to get feedback on the preliminary design of the plan, before work begins on the project.
The design-build tender was awarded to Latitude 67 in July, which entered the design phase of the project in preparation for the public information center.
It will be in person at Painswick Park, and city staff will set up a canopy tent where the park's design concept will be on display. The Design Consultant Landscape Architect and Parks Planning staff will be available to answer questions.
Residents may attend without an appointment, but no presentations will take place.
To notify residents, the Simcoe Muskoka Catholic District School Board, and businesses adjacent to Painswick Park, a "Public Information Center Notice" was to be mailed to property owners within 200 yards of the park's boundary. here on August 1st.
"In addition, an email invitation to key stakeholders will also be released the week of August 8, 2022," said Wendy Loevenmark, architectural planner for the city landscape, in a recent note. "This will include, but not be limited to, the Barrie Pickleball Club, internal stakeholder groups and Tourism Barrie. Members of the municipal council are invited to attend. »
The total cost is $1.91 million, plus $25,480 per year for maintenance and operation, starting in 2024.
The 12 dedicated pickleball courts at Painswick Park would be suitable for local and regional tournaments. The facility will have flexible seating and visitor capacity for a minimum of 50 participants and 100 spectators for a local pickleball tournament and 250 participants for a regional tournament.
The total cost required for 12 pickleball courts, including eight new ones, is estimated at $1.639 million.
A total project budget of $1.91 million is required to cover all costs and contingencies associated with the construction of the proposed pickleball facility and associated park renewal at Painswick Park, located on the corner of Big Bay Point Road and Ashford Drive.
Painswick Park is approximately 10 acres in size and includes a playground, a large soccer field, a baseball diamond, two large lighted senior ball diamonds under construction, two tennis courts and granular parking.
The city offers walk-in pickleball sessions at various community centers across Barrie. There are dedicated courts in Red Path and Painswick parks, shared courts in Greenfield, Sandringham and Strabane parks. In total, the city has 11 existing pickleball courts in its parks, with six dedicated courts and five shared-use courts.
The city plans to build four more dedicated pickleball courts at Eastview Community Park this fall, to have a total of 15 courts by 2022.
Pickleball combines elements of tennis, badminton and table tennis/ping pong. It is played with a racket and a wiffle ball, a perforated plastic ball, on a badminton-sized court with a slightly modified tennis net. Pickleball can be played doubles or singles and by all ages and skill levels, both for recreation and as a social activity.
The Barrie Pickleball Club said it has about 450 members in and around the city.