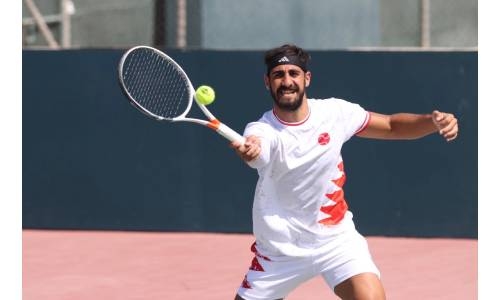 Bahrain ends Davis Cup with two consecutive wins | THE DAILY TRIBUNE
TDT | Manama
The Daily Tribune – www.newsofbahrain.com
Here is the link to the full story
Bahrain ended its campaign in this year's Davis Cup Group IV Asia / Oceania with back-to-back victories on the Bahrain Tennis Federation (BTF) hard courts in Isa Town. The Bahrainis beat Mongolia 3-0 in their final playoff clash yesterday, while on Friday they won their final Pool A match against Guam 3-0.
The nationals finish the tournament in the lower half of the standings of the 12 participating teams.
Yesterday, against Mongolia, Hasan Abdulnabi kicked off the first match with a resounding 6-0, 6-1 victory over Sukhbaatar Puntsag.
Yusuf Qaed went on to achieve a similar 6-0, 6-0 victory over Oyunbold Baatar, before Hasan and Qaed teamed up to beat Khatansuikh Batbayar and Puntsag 6-0, 6-1.
Against Guam, Abdulkarim Abdulnabi first beat Camden Camacho 6-2, 6-7 (8-10), 6-1 in his singles match, which Elyas Abdulnabi followed with a 7-6 (6-1 ), 6-0 over Mason Caldwell.
The Qaed-Hasan pair then finished the sweep with a relentless straight-set triumph over Mason Caldwell and Derek Okuhama 7-5, 4-6, 6-3.
Bahrain was coached by Hesham Malalla in the Davis Cup.
Yemen in other play-offs Yemen beat Oman 3-0, Kyrgyzstan beat Guam 2-1, Saudi Arabia beat Cambodia 2-1, UAE beat Turkmenistan 2- 1 and Iran beat Iraq 3-0.
With the results, Saudi Arabia, the United Arab Emirates and Iran have all reserved their places in the Asia / Oceania Group III for next year's Davis Cup.
Bahrainis will remain in Group IV.