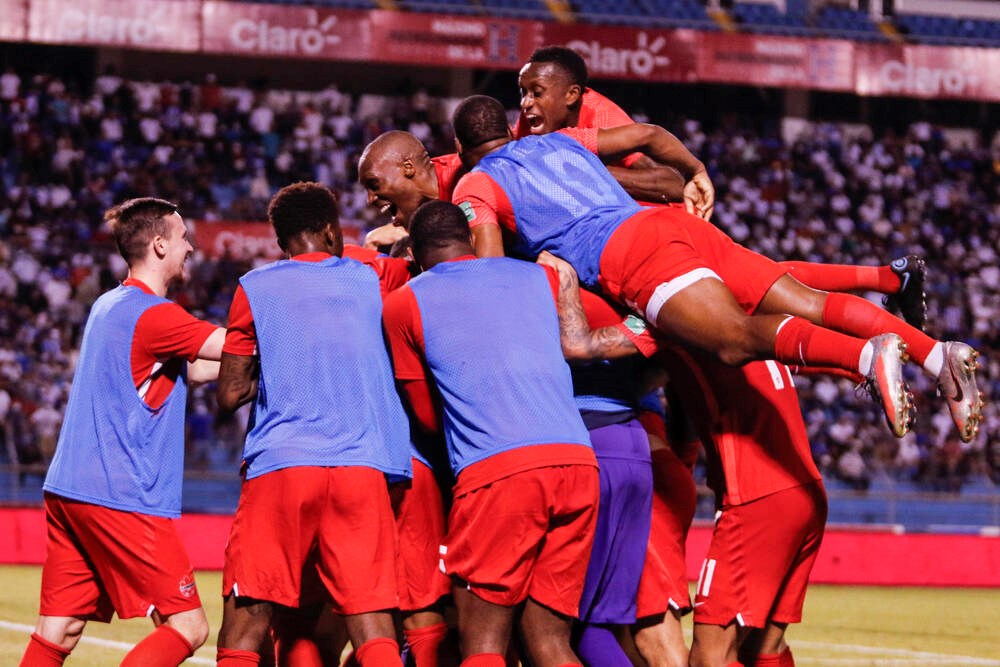 BC Place would be more comfortable, but Canada picked the icy Hamilton for key World Cup qualifier against USA
Today could have been a day when the ferries were packed with Island soccer fans heading to BC Place for the much anticipated Canada-USA World Cup qualifier.
Today could have been a day when the ferries were packed with Island soccer fans heading to BC Place for the much anticipated Canada-USA World Cup qualifier.
The game will instead take place at noon PT (Sportsnet on TV and OneSoccer online and on Telus Optik TV Ch. 980) in chilly Hamilton, Ont., after reports late last year that the match would take place in British Columbia proved to be without merit.
Canadian soccer fans are about to finally have more than 1986 as their only World Cup talking point. So wherever the game is played, there will be intense interest from coast to coast.
The location was chosen primarily because of the surreal travel situation Canada were placed in with Thursday's 2-0 win in Honduras, followed by today's home game in the north against the Americans, followed by of a trip back south to play in El Salvador on Wednesday.
Southern Ontario is simply better located than the West Coast for that frenetic travel window to and from Central America.
"The travel program is crazy," said Canadian team head coach and England transplant John Herdman, who lives in the Lower Mainland. "We wanted to reduce travel times. We put players' needs first. All we do is optimize our chances of qualifying for the World Cup.
In perhaps FIFA's most disparate region.
"Each team in this region has its particularities regarding the conditions," Herdman said during a Zoom call Saturday with Canadian reporters. "We go from 28 degrees in Honduras on Thursday to minus nine [today] on frozen ground. This is the world of CONCACAF.
With growing interest in Canada's national team, the game against the United States would have been sold out anywhere from Victoria to St. John's in minutes.
"We could have put it in Saskatchewan and the fans would have come out," Herdman said, referring to a province generally more tuned into the other kind of football.
All 24,000 tickets sold out almost immediately for Tim Hortons Field. But subsequent pandemic restrictions in Ontario will limit Hamilton Stadium to half its capacity of 12,000 fans.
The top three teams from this CONCACAF final round will qualify directly for the 2022 World Cup in Qatar while the fourth will qualify to play against a nation in Oceania for a World Cup spot. Canada have not qualified for the World Cup since Island players Ian Bridge, George Pakos and Jamie Lowery made Canada's only appearance in 1986, a drought that finally appears to be ending.
Canada (5-0-4) is undefeated with 19 points and the United States 5-1-3 with 18 points. Historic CONCACAF powers Mexico are third with 17 points and today face fifth-placed Costa Rica (12 points). Fourth-placed Panama (14 points) take on sixth-placed Jamaica (seven points), while Honduras and El Salvador meet.
"There's definitely a shift in mentality in the way we look at the United States now," Herdman said.
"We are both fighting for the top of the table. That's all I have to say.
Canada and the United States tied 1-1 in their first qualifying game in Nashville, Tennessee on September 5.
The United States leads the all-time series 16-9-12.
"It took us a while to get there, but Canada is coming," Herdman said.
"What an opportunity for our players in the World Cup qualifiers against our biggest rival. Just wear more layers. We are Canadian. We like the cold.