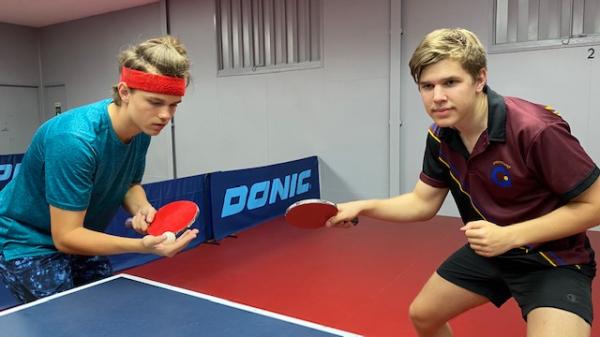 Championship start closed – Central Queensland Today
By Allan Clarke
The Rockhampton Table Tennis Association's annual closed championships kicked off this week at the Leichhardt Park gaming center and although player unavailability determined a smaller entry than in 2019 when the format was last launched, the level of play offered is still quite impressive.
Last year, Covid 19 disrupted many club activities and closed titles were seriously affected as only two events were held on a Sunday morning towards the end of the year and the competition was followed by a mini break.
This year's competitions kicked off with veteran events on Monday night and some of the city's masters of sport have gone back a few years to record impressive results and good quality play. This competition hosted players over forty in both singles and doubles and there weren't many easy matches in the two draws.
Some of the singles clashes produced exceptional play and the grand final saw two of the home club's longtime mainstays, James O'Sullivan and Gerard Watts, make it to center court and secure a very good final. This pair have played several times in the past and O'Sullivan really took advantage of Watts' busy schedule that night to score a nice win. O'Sullivan's offensive play was very consistent and precise against his opponent who was ranked among the best defensemen in town for about forty years. Watts generally couldn't keep up with the pace generated by O'Sullivan.
In the semifinals, Watts survived a determined effort by Ann-Louise Stewart to win 7-11, 11-8, 13-15, 11-8, 11-9 while O"sullivan had a fairly comfortable victory. on Monica Deeth but he really had his job hard for him in the round earlier when he struggled to defeat Allan Clarke by a few points in the deciding fifth game.
In the round robin tournaments leading up to the semi-finals there were some standout clashes including Patricia Green extending Watts to five sets, Monica Deeth putting up a very good win over Dave Hockings in another battle that spanned the entire game. distance, the impressive Ann-Louise Stewart The consecutive sets prevail over Jeff Green with two decided to two and the fiery efforts of Helga Leitner against James O'Sullivan and Allan Clarke.
In the doubles event, the random duo of Dave Milverton and Allan Clarke paid unexpected dividends when they beat the more highly qualified duo of Gerard Watts and Pam Clarke in close four sets in the final to win the gold medal . While it was a good win, the winners were also surprised to beat seeded James and Linda O'Sullivan 11-9 in the deciding fifth set of the semi-finals after securing a solid victory over Jeff and Patricia Green in the 'a previous fight. On the other side of the draw, Watts and Pam Clarke eclipsed the second-seeded partnership of Dave Hockings and Ann-Louise Stewart in another hotly contested semi-final.
The open singles events are organized this week and will end next Tuesday with the open doubles event.