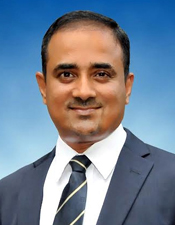 Dr. Lalith Liyanage to represent Sri Lanka at ITTF | Print edition
The Sri Lanka Table Tennis Association (TTASL) has appointed Dr Lalith Liyanage to represent the association at the Annual General Meeting of the International Table Tennis Federation (ITTF) to be held in Houston, USA. United, during the table tennis world championship from November 21 to 29. Dr Liyanage is vice president of the current administration of TTASL and […]
The Sri Lanka Table Tennis Association (TTASL) has appointed Dr Lalith Liyanage to represent the association at the Annual General Meeting of the International Table Tennis Federation (ITTF) to be held in Houston, USA. United, during the table tennis world championship from November 21 to 29. .
Dr Liyanage is Vice President of the current administration of TTASL and served as Interim President in 2019 and 2020. He is a Chartered Engineer with three Masters and a PhD. He is also the current president of the IET Sri Lanka network.
Dr Liyanage not only excelled in academia but also proved his complete talents as an outstanding athlete having competed in seven sports. He represented the Kandy, Kandy District and Sri Lanka schools hockey teams and won the Kingswood College hockey colors and Hockey Star for two consecutive years. He also played cricket, soccer, table tennis, badminton and carrom and was a leading figure in athletics at very competitive levels.