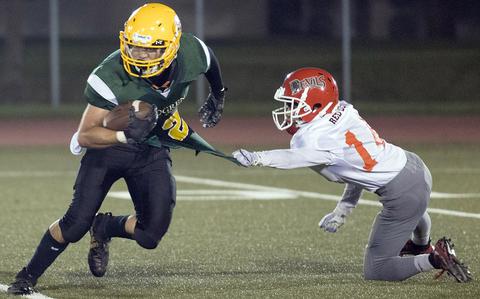 Edgren's equipment issues lead to another postponement
Michael Lozano from Nile C. Kinnick snatches Evan Moreno's jersey from Robert D. Edgren. (Jason Wysong / Stripes Special)
For the second time this season, equipment problems have forced the postponement of a Robert D. Edgren football game, sports officials from DODEA-Pacific said on Friday.
Edgren was scheduled to play Matthew C. Perry at 4:30 p.m. Friday at Reid Memorial Stadium on Naval Air Facility Atsugi.
The equipment issues were such that Edgren could only take 10 players with them on the bus trip to Atsugi, said DODEA-Pacific sports coordinator Tom McKinney.
He didn't say what specific gear was affected, but Edgren has borrowed helmets from other DODEA schools for the games the Eagles have played so far. They lost two games, 54-0 to Nile C. Kinnick on September 10 and 48-12 to Zama on the 17th.
Edgren's scheduled first game this season, at Yokota on August 28, has been postponed to November 5 due to the same equipment issue.
McKinney said Edgren will borrow players from Perry to allow a controlled scrum on Friday afternoon at Reid.
It's not immediately clear whether the equipment issue will affect Edgren's remaining games. McKinney said Edgren officials would reassess their situation early next week.