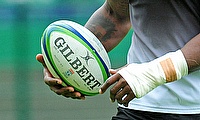 Fijian coach Drua Mick Byrne tested positive for Covid-19
Fijian Drua has one win in six games
© PA
Fijian Drua suffered another setback ahead of Friday's Super Rugby Pacific clash against the Waratahs as manager Mick Byrne tested positive for Covid-19.
Byrne is currently in solitary confinement and removed from the rest of the team.
"Mick is clearly disgusted at not being with the team, but remains in good spirits as he completes his period of recovery and self-isolation," Drua chief executive Brian Thorburn said.
"He continues to direct the shots, of course, and the players are in the very able hands of our coaching and management staff.
"Mick will join the team once cleared by the medical staff."
Meanwhile, the team also moved to the Gold Coast for rounds seven and eight after rising floodwaters forced them to evacuate to Lennox Heads.
"It's just a small bump in the road compared to anything we faced in our inaugural season," Thorburn said.
"It was difficult to move almost 55 people with just a few hours notice, but we managed to find suitable accommodation with nearby training facilities for our entire squad of players and staff.
"Of course, our situation pales in comparison to these people in northern New South Wales and the Northern Rivers region, as they prepare for even more adversity.
"Our thoughts are with them"
Fijian Drua have a solitary win from six games and sit 10th in the Super Rugby Pacific table.