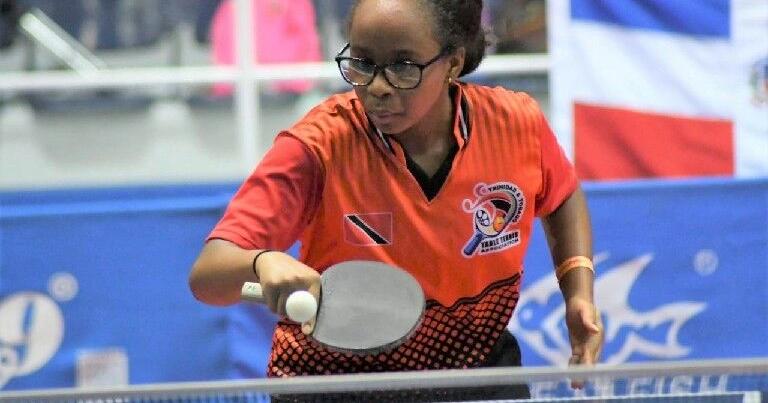 Four players play in Caribbean table tennis | Regional sports
FOUR of the nine players from Trinidad and Tobago have qualified for the singles knockout stage of the Caribbean Youth Table Tennis Championship in Santo Domingo, Dominican Republic.
Derron Douglas and Chloe Fraser, who both flew the red, white and black flag at the Caribbean Championships Open two months ago in Cuba, played unbeaten to finish top of the round robin groups.
And Sekel McIntosh and Malik Gopaul qualified for the last 16 by finishing second in their respective groups.
Douglas, ranked fourth in the country, beat St Lucian Nathan Alexander 11-8, 9-11, 11-0, 11-3; Dominican Republic's Christopher Rodriguez 11-8, 11-4, 7-11, 12-10 and Jamaica's Justin Halstead 11-5, 11-7, 11-9 in Under-19 action in group seven yesterday.
The other three had advanced to the Under-15 division on Sunday night.
After scoring a hard-fought 11-8, 10-12, 11-9, 12-10 triumph over Dafne Sosa of the Dominican Republic, Fraser beat Jamaican Tsenaye Lewis 14-12, 11-8, 11-9 in the group two.
McIntosh qualified despite winning only one of his three games.
Two other players also lost twice, but he had the best record of the three (five games won and seven lost) and finished second to undefeated Jamaica's Gary Whythe in group four.
After losing his opener 11-7, 5-11, 14-12, 11-5 to eventual group winner Colin Wong of Guyana, Gopaul beat Jamaican Dewayne Dinnoh-Newland 11-5, 11- 9, 11-8 and Alvin Tejada. of the Dominican Republic 11-4, 11-7, 11-9 for second place in group seven.
Ethan Ramcharan and Josiah Joseph managed to win just one of their nine matches to finish bottom of their respective groups on Sunday night.
Yesterday at the Under-19s, Ameer Mohammed also brought up the rear in group two when they lost to players from the Dominican Republic and Puerto Rico.
And after losing his first two to players from the Dominican Republic and Guyana, Samuel Humphreys edged Rasheed Clarke 11-7, 8-11, 11-4, 6-11, 11-5 to avoid cellar position. in group five.
The doubles and mixed doubles draws were due to start last night and the singles and doubles will continue today and end tomorrow.