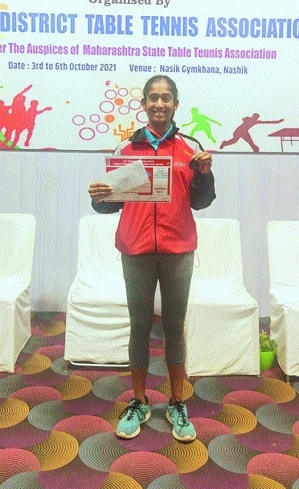 Jennifer gets first place in the State TT Championship
Principal Correspondent:
CITY's up-and-coming paddler Jennifer Varghese was placed first in the Under-15 category of Dr. Ramesh Yashwant Prabhoo Memorial's 1st Maharashtra State Ranking Tournament 2021-2022 which will start at Prabodhankar Thackeray Krida Sankul, Vile Speak (East) starting Friday. The competition will be held under the auspices of the Maharashtra State Table Tennis Association. Jennifer, 13, who recently won the national Under-15 and Under-17 titles, will also compete in the Under-15 and Under-19 age categories. In the Under-13 Girls' category, Ishika Umate was placed third while Jayesh Kulkarni was placed 8th in the Under-21 category. Ishika will compete in the U-15, U-17 and U-19 girls' singles while Adi Chitnis will try his luck in the U-17, U-19 and men's events. Kulkarni will compete in the U-19, U-21 men's singles, while Kaustubh Udhar will compete in the men's singles.
About 60 paddlers from Nagpur are participating in the competition, said Ashutosh Potnis, secretary of the Nagpur District Table Tennis Association. An overwhelming response of 800 entries was received for the competition. The men's and women's singles events attracted entries of 85 and 37 players respectively from all districts of the state. There would also be a competition for boys and girls in singles in the under 11, under 13, under 15, under 17, under 19 and under age categories. young boys and girls in the under 21 age categories.