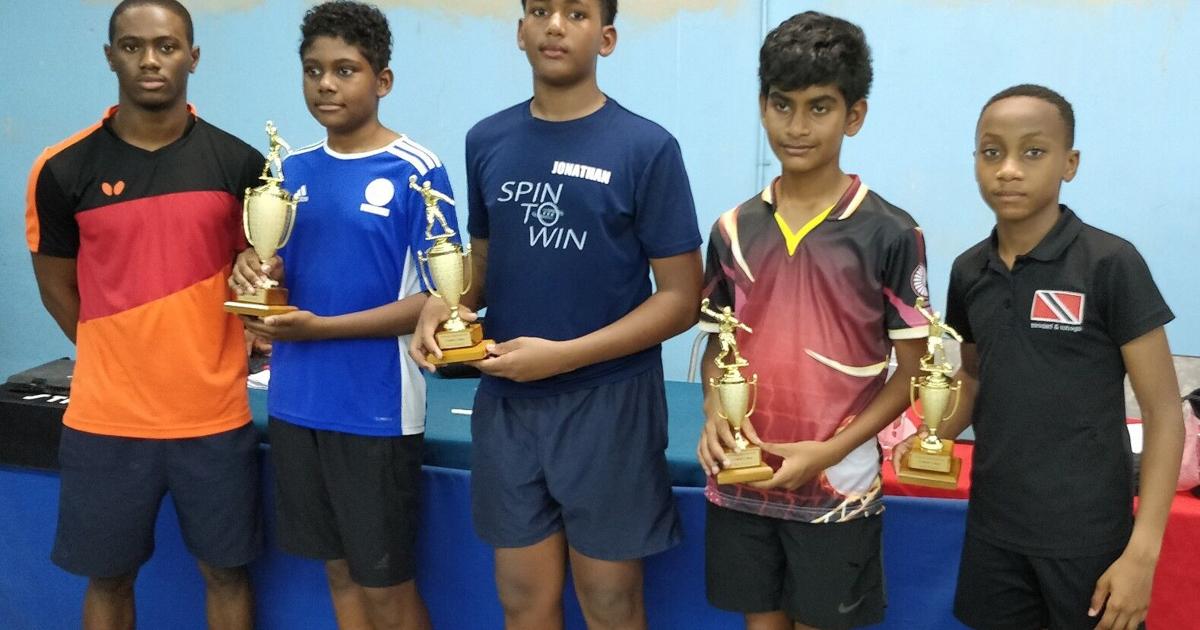 Joseph, Boodhan, Bhim and Mohammed win Silver Bowl gold | local sports
DANIEL BHIM fell short of winning two titles when the Under-11 and 13 divisions of the Trinidad and Tobago Table Tennis Association's Silver Bowl Championship were played Sunday at the Warrenville United Table Tennis Club, in Warrenville.
The nine-year-old St Peters Primary School pupil won the Under-11 trophy and lost in the Under-13 quarter-final to eventual champion Josiah Joseph, from PowerGen.
hard fought
Bhim, who won the Under-9 title in all four major junior tournaments in the last season (2019) of action before Covid-19, did not lose a single match in the Under-9 event. 11 and finished the job with a full 11. -5, 11-4, 11-4 triumph over Liam Rattoo after beating Solo Crusaders' Aaron Noel in three straight semi-final matches.
In the round-robin phase of the Under-13 event, Bhim suffered a hard-fought 11-13, 12-10, 11-9, 11-8 defeat at the hands of Jonathon Cottoy of WASA, who won the group and found himself making it all the way to the final.
Cottoy, 12, beat PowerGen's Ethan Ramcharan 11-7, 6-11, 11-9, 11-8 in the semifinals, but was then beaten 11-8, 9-11, 11-7, 11- 8 by Joseph for the title.
The San Fernando Zone Junior Tournament Under-11 and Under-13 champion had beaten Bhim 11-5, 11-8, 11-8 in the quarter-finals, then counted for D'Abadie Youths player Sekel McIntosh 11-5, 7-11, 11-4, 11-9 in the semi-final.
McIntosh, who flew the red, white and black flag in the Under-15 division of the Caribbean Youth Championship alongside Joseph and Ramcharan in the Dominican Republic last month, denied Bhim's older brother, Joshua, of St Peters, 11-9, 11-3, 11-6 in the last eight.
Knockout stage
THS and Friends player Lyllana Boodhan, who won more tournament titles than any other player when she won six trophies in the Caroni Zone tournament as a ten-year-old in 2019, should have won the girls under 13 crown.
In the knockout stage, the daughter of Linda Partap-Boodhan, former top player and Sportswoman of the Year nominee, defeated 2019 San Fernando Under-11 and 13 champion Jerisse Elder, of PowerGen, 7-11, 11-6, 11-1, 11-5 in the semis and the No. 1 under-11 player of 2019, J'nai Samuel, of Queen's Park, 11-7, 5-11, 11-5, 12-10 in the final.
There were just two players in the women's under-11 category, and Jannah Mohammed stopped her sister and Warrenville United teammate Hidayah 11-6, 11-7, 11-7 for the trophy.