Kulas through to OFC Women's Nations Cup final
FULL TIME | The Digicel Kulas outclass the Solomon Islands and secure a place in the grand final at 7 p.m. this Saturday.
90′ 4 minutes of play added
85′ Dangerous game of Solomon Islands, Fiji from a free kick
83' Luisa Tamanitoakula punishes Solomon's defense with the third goal for Fiji. Fiji 3 – 1 Solomon Islands
80′ Rekha's cross kick was not captured by Volitikoro
79′ Nice goal attempt by Volitikoro, stopped by the Salomon goalkeeper
77′ Likuculacula will be replaced by Tamanitoakula
73Nasaus' cross headed by Volitikoro goes over the crossbar
71′ Free kick for Fiji.
65′ Offensive play by Volitikoro, ball out of play
64′ Foul by Racea, Solomon Islands from a free kick
59′ Trina Davis replaced by Volitikoro
57′ Bakaniceva hits the pitch for Fiji
55′ Solomon Islands with a counterattack, Fiji clears the ball
53′ A nice shot from Diyalowai misses.
52′ Nasau's free kick goes over the crossbar
51′ Foul on Tora just outside the penalty area, Fiji from a free kick
49′ Foul on Ranadi, Fiji with a free kick
SECOND PART | We now enter the next 45 minutes with the Digicel Kulas leading 2-1.
half time
43′ Fiji foul, Solomon Islands from a free kick
40′ foul on Koleta, Fiji with a free kick
34′ A powerful shot from Vanisha Kumar misses the target.
28′ A professional one-touch passing combination between Likuculacula and Nasau led to Cema Nasau finding the back of the net Fiji 2.
22′ The shot goes out of bounds, Goal kick for Fiji.
24′ Free kick for Solomon Islands outside the penalty area.
23′ Sofi Diyalowai with a long shot, blocked by the goalkeeper.
22′ fault on Fiji. Fiji with a free kick.
21′Solomon Islands with a corner, cleared by Fiji.
20′Miscommunication from Fiji could have cost them a goal. The ball is out of play.
14′ OBJECTIVE! Cema Nasau finds the equaliser, sending the fans into a frenzy. FIJI 1-1 SOLOMON ISLANDS
11′ OBJECTIVE! Solomon Islands take the lead after captain Ileen Pegi scores a penalty.
First semester currently underway.
3′A direct shot on goal. The Solomon Islands keeper manages to save
1′Kick-off
START LIST | This is how the Digicel Kulas will take the field tonight!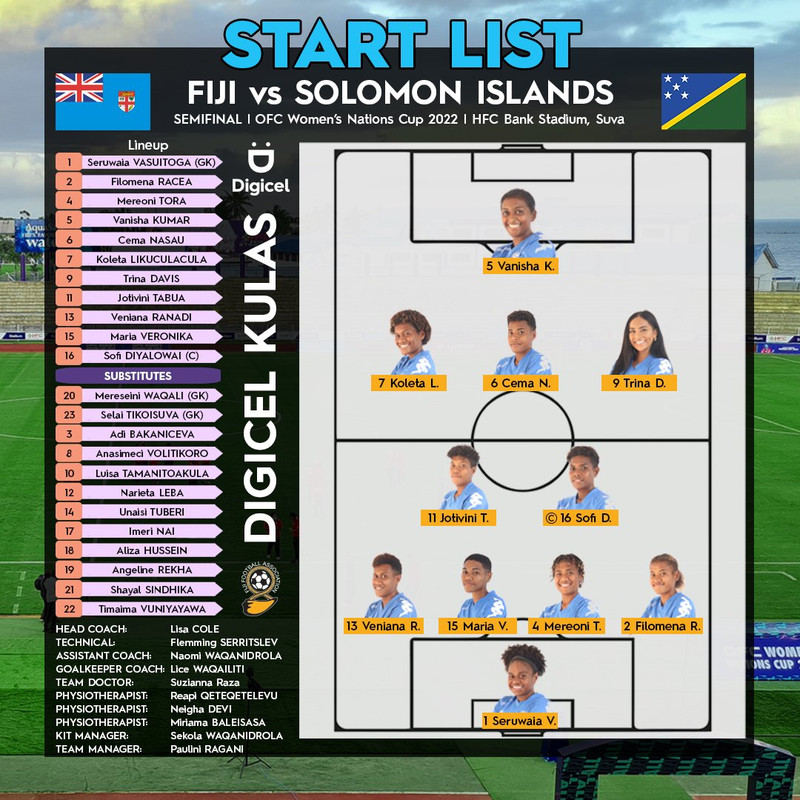 WARM UP | Digicel Kulas warm up ahead of their semi-final clash against Solomon Islands tonight at the HFC Bank Stadium in Suva.