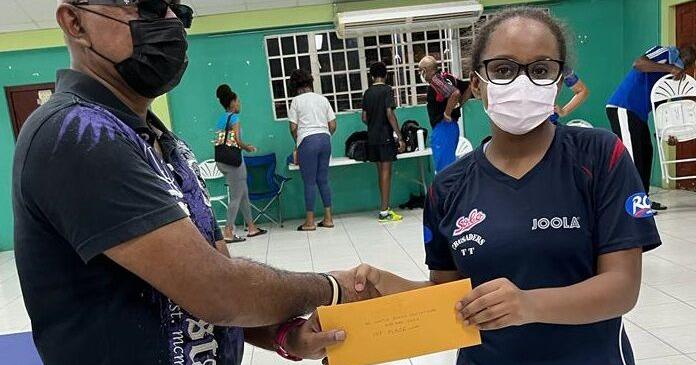 Little Chloe Fraser knocks them out in Siparia | Sports
LITTLE Chloe Fraser beat five male players to win the Dr. Sonny Curtis Invitational Tournament title on Monday at Siparia United Table Tennis Club.
After finishing second in her group in the round robin phase of the competition, the 13-year-old Solo Crusaders upset three players in the knockout draw to claim the title.
Fraser's victims in the main draw were PowerGen's Faiz Mohammed, one of the country's most cunning veterans for many years, as well as Queen's Park's Samuel Humphreys and PowerGen's Ameer Mohammed, who have both represented the country in the Under-19 division of the Caribbean Youth Championship. last month in the Dominican Republic.
Ameer was dispatched 11-7, 11-6, 11-7 in the quarter-finals, and after Faiz lost 11-7, 11-13, 12-10, 11-7, the nephew of two-time national champion Curtis Humphreys was beaten 9-11, 11-7, 11-6, 11-8 in the title match.
Fraser, who competed in the Under-15 division in the Dominican Republic after appearing at the Caribbean Open Championships in Cuba in March, pushed her Crusaders teammate, in-form former Under-19 champion N'Kosi Rouse has five games in it. only defeat in the tournament.
The former national under-11 and 13 champion hasn't lost a match to her Caribbean Youth teammate Josiah Joseph of PowerGen and Marcus Gabriel of Siparia in her other Group 1 matches.
Rouse, who won the title in a WASA club tournament a few weeks ago, was favored to make it two in a row but came up against Anthony Laquis in the first round knockout and was beaten 11-6 , 11-6, 11-6 by the second in Group 2, who then lost 14-12, 11-8, 11-9 to Humphreys in the semi-final.
Faiz beat Crusader Malik Gopaul, another Under-15 player at the recent Caribbean Youth Championships, 11-6, 12-10, 11-8 while Humphreys upset Catherine Spicer 11-9, 11-7 , 11-8 to advance to the final four.
The two-time national champion had reached the 'WASA' semi-finals in her first competition since winning the two major tournaments she entered in 2019.