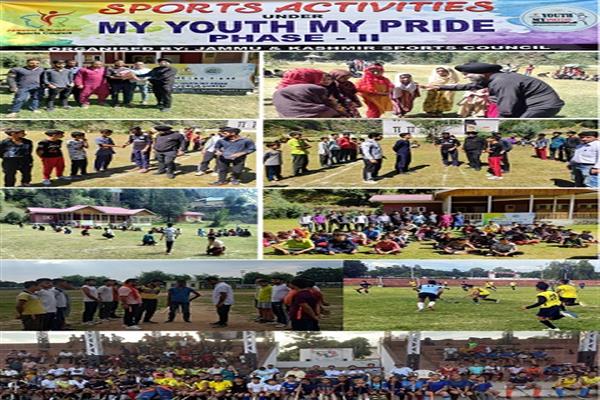 Organized sports activities from dawn to dusk
JAMMU, SEPTEMBER 23 (KNS): As Phase II of the My Youth My Pride initiative entered the 3rd day in Samba District, a table tennis event was held in the Samba indoor stadium, to engage more young people in activities sports and provide a platform to showcase their skills.
About 50 tennis players from the district competed in different age categories. The Championship knockout matches were underway when the latest reports arrived.
Earlier, Gharu Ram, Deputy Superintendent of Police opened the event and presided over the ceremony as the chief guest while Principal, Navodhaya Vidyalaya Higher Secondary, Danote, Samba was the guest of honour.
A large number of people were present at the venue, including the players' family and supporters in addition to officials from other government departments as well as officials from the Sports Council, including SP Singh's MA Stadium Manager, Coach of Judo Arshi Nad, Athletics Coach Gurcharan Singh, Asad Sharma TT. Mentor and mentor Manjit Singh Korfball.
In the meantime, a Kho-Kho tournament has been held at the Chatroom Tourist Welcome Center for boys and girls. The main guest on the occasion was Salim Raja, Sarpanch of Chatroom while the guest of honor was Mohammad Irfan Naik, Director of Furqan Academy Chatroo.
The tournament is led by Mentor Sandeep Singh Jamwal, Yoga Mentor Rohit Chohan under the supervision of Satpal Singh, Stadium Manager KK Hakkhu Jammu.
Participants in these events are very enthusiastic about being part of special sporting initiatives and are demanding that these programs become regular features of the Union Territory's annual sporting calendar. They also applauded the role of the Sports Council Secretary in organizing events of such renown and purpose.
A table tennis competition under a similar program was taking place at the Poonch Sports Stadium and similarly a Kabaddi tournament was taking place at the Ramban Government Higher Secondary School.
The final Kho-Kho Championship matches were held at the Kathua Sports Stadium. Dharamvir Singh, a former top-class cricketer, handed out the prizes to the winning and runner-up teams in the boys and girls categories.
Councilman Rahul Dev Singh, Kathua, opened the MYMP Hockey Tournament at the Kathua Sports Stadium today. Four boys' teams and four girls' teams will compete in two separate events in the race for first place.
The first game in the girls category was played between Hiranagar Hockey Club and Jasmergarh Hockey Club which was won by the latter by a margin of 2 goals to 1. The tournament is played in a 5-a-side format. boys was in progress when the report was last received. (KNS)