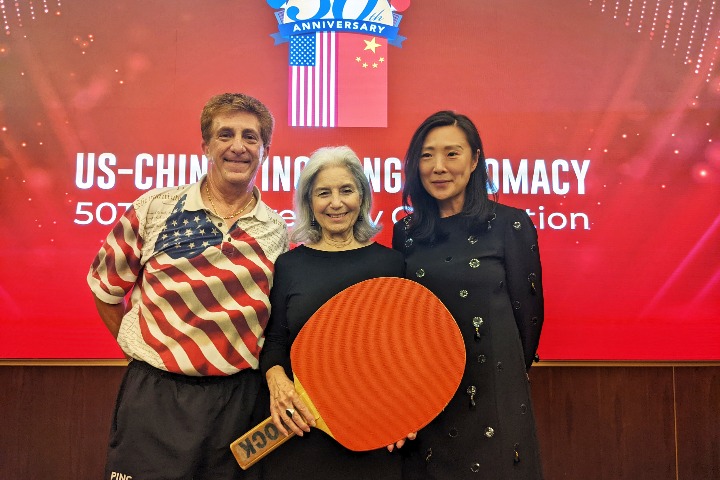 Ping-pong diplomacy revived in Houston
The story of the small ball displacing the big ball continued in Houston this weekend in the latest chapter of Ping-Pong Diplomacy.
American professional and amateur table tennis players opened the USATT (USA Table Tennis) Ping Pong Diplomacy Championship Tour to commemorate the 50th anniversary of former US President Richard Nixon's historic visit to China in 1972.
About 20 teams participate in the tour, including USATT members Nikhil Kumar and Lily Zhang, who holds five U.S. National Championship titles. She represented Team USA at three Olympics and became the first USA World Championship medalist in 62 years when she won bronze with her Chinese teammate Lin Gaoyuan at the 2021 World Table Tennis Championships in Houston in last November.
The tour will visit other cities, including New York, San Francisco and Chicago, according to USATT CEO Virginia Sung.
The idea for the tour was inspired by the USATT's collaboration with the Chinese team last November to continue the legacy of Ping-Pong Diplomacy.
Wang Xiaofeng, political counselor at the Chinese Embassy in Washington, said he hopes the event will educate more young people about the history of ping pong diplomacy — "The story of" a little ball moving the big ball," that ping-pong diplomacy has promoted the normalization of China-US relations and profoundly changed the international landscape."
"Today, the big ball of China-US relations still needs the small ping-pong ball to move forward, from which we see people's strategic vision, political courage and friendship reflected in diplomacy. ping pong back then. That's why our commemoration is very relevant today," Wang said.
People who were personally involved in the ping pong diplomacy events of 1971 and 1972, such as Connie Sweeris, her husband, Dell Sweeris and Jan Berris, attended the championship awards ceremony on Sunday evening.
Connie Sweeris was a member of the US table tennis team invited to visit China in 1971 and was able to shake hands with Premier Zhou Enlai during his visit. Dell Sweeris participated in the Chinese team's reciprocal visit to the United States in 1972 and played with Chinese player Liang Geliang in front of 10,000 people in Michigan.
"It was a pleasure to be part of the ping-pong diplomacy of 1971 because it was a real surprise for us and it made history. Knowing that the experience helped to thaw the relationship, the most important is that 50 years later, we would like to see this legacy of friendship continue," said Connie Sweeris.
Jan Berris, vice-chairman of the National Committee for United States-China Relations, helped organize the Chinese table tennis team's tour of the United States in 1972. She recounted this experience to highlight how a true friendship was formed over the weeks tour. .
At the end of the tour, the American players, tour staff and security guard all learned to say "friendship first, competition second" in Chinese. When it came time to say goodbye, some Americans wept.
"It struck me, during the trip and afterwards, when I was thinking about it or talking about it, how surprisingly easy it was to go from a period when people from two countries who had been conditioned by their government and their media, to think of each other as enemies, to overcome that and change the negative stereotypes that our two countries had about each other," Berris said.
USATT Hall of Fame recipient Scott Preiss ended the event by inviting VIP guests and members of the public to play ping pong with him.