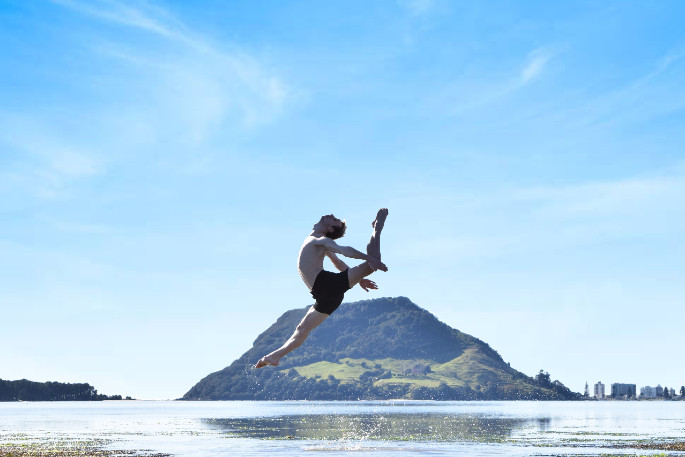 SunLive – Dancer living his dream of performing
Tauranga dancer John Tetley-Jones set sail this week to live out his performance dream.
Under contract with the Norwegian Cruise Line, American cruise company, to dance on their ship Oceania Riviera, the young man of 21 years will see the world while nourishing his passion.
"I love the feeling of expressing myself through movement, I wouldn't want to do anything else," says John.
He has been dancing since the age of two, a total of 19, and has spent much of his dance career at KJ Studios in Tauranga.
Since then John has performed at the Melbourne Cup, Grand Prix, TV shows 'Dancing with the Stars', 'Australia's Got Talent', an AFL show and he has attended the Melbourne Ministry of Dance.
John dances in most categories, ranging from tap and jazz to Latin and hip-hop. Upon returning from Melbourne, he began teaching at KJ Studios in Tauranga to give back to the community that inspired him to get started.
"I'm really grateful to my teacher, Kelsey Andrew, at KJ Studios. She also went the dance route full time, and that inspired me to go learn in Melbourne.
"I love the feeling of influencing and inspiring young children, and seeing them find themselves on the move."
When John goes on a cruise, he will train in Florida to rehearse and learn everything there is to know about performing on a cruise ship. After that, he'll depart from Miami to dance on 10-day cruises that visit Italy, Greece, Alaska, the Bahamas and more.
John says he can't wait to see the world while showing what he has to offer to as many people as possible.
"If I inspire someone by playing, it's a job well done from my point of view."
The occasion is a looping moment for the dancer, as he was first inspired to dance on a cruise ship aged 11 while watching a live performance while on a cruise with his family.
"After seeing that performance, that was my number one dream. To be able to do that these days is such a blessing and an honor.