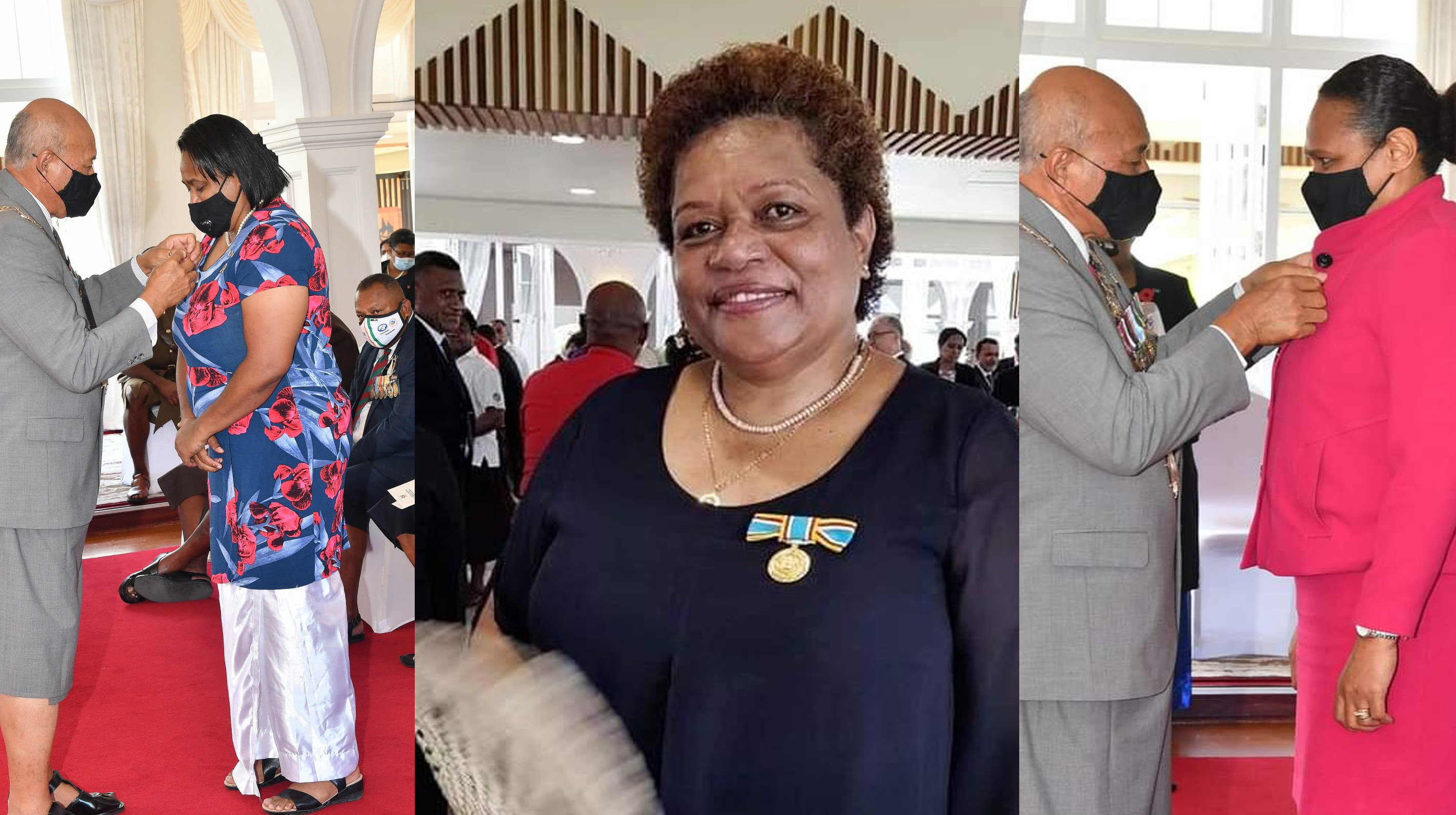 The Fiji Times »Trio congratulated for their service to Netball Fiji
Netball Fiji is proud that Wainikiti Bogidrau, Vasiti Vocea and Unaisi Rokoura have been awarded the 50th Independence Anniversary Commemorative Medal for service to netball and sport in Fiji. Netball Fiji Managing Director Vivian Koster congratulated the trio on their well-deserved recognition.
"The netball community is always proud to celebrate the achievements of its members, and Wainikiti, Vasiti and Unaisi have long contributed to the continued growth of the sport," said Koster.
Bogidrau said it was truly a humbling experience to be recognized, honored and awarded with the commemorative medal.
She appreciates that others (Netball Trustees) have been there before her, with and by her side during her tenure as President of Netball Fiji for 10 years.
She dedicates the medal to these selfless people who would also have been deserved recipients.
"It hasn't been an easy trip, but our sport has come out stronger and more resilient over the year and I know we're definitely headed for bigger things to come."
Bogidrau is the President of the Oceania Netball Federation and the Oceania representative on the World Netball Board of Directors.
She previously served as President of Netball Fiji from 2010 to 2019.
For Vocea, the award is an honor and she is grateful for the recognition of her work and contribution to netball.
She is proud that netball, as a women's sport, is represented and recognized.
Vasiti made his debut for the Fiji team in 1986 at the age of 16, representing Fiji at the 8th Netball World Championship (now known as the Netball World Cup).
She has represented Fiji at four Netball World Cups and five South Pacific Games and retired from netball in 2003.
While representing Fiji on the world stage, Vocea completed her bachelor's and master's degree programs, married and became a mother of three.
She has also represented Fiji at the international level in basketball and volleyball. Since the end of her playing career, Vocea has served as President of the Suva Netball Association and is currently President of Lomaiviti Netball Club, a proud local club with 51 years of history and 12 teams.
She hopes to remain an inspiration to young girls and her message to young netball players is to stay disciplined on and off the field, it will help you accomplish more than you can imagine.
Rokoura is a household name for netball in Fiji and to her the price didn't seem real. When she got her call from the president's office, she felt like she was being pranked.
The honor really left her speechless, but she must thank God and her parents for making her worthy of the honor.
She is grateful to the government of Fiji for this recognition, she feels honored and privileged.
Rokoura made her debut for the Fiji team in 1995 and became captain in 1997 until 2006 when she officially retired. In 2000, while still a member and captain of the senior Fiji team, she began her coaching career.
She was named coach of the Fiji Under-21 team at the 2005 Junior World Cup in Florida, USA. She was the head coach of the Fiji squad from 2009 to 2013.
She has remained actively involved in netball and is currently the National Coordinator of the NetGO Fiji Program of the Pacific Sports Partnership, a partnership between Netball Fiji and Netball New Zealand, supported by the New Zealand Department of Foreign Affairs and Trade.
She has done an excellent job for the development of netball at the community level as part of this initiative.