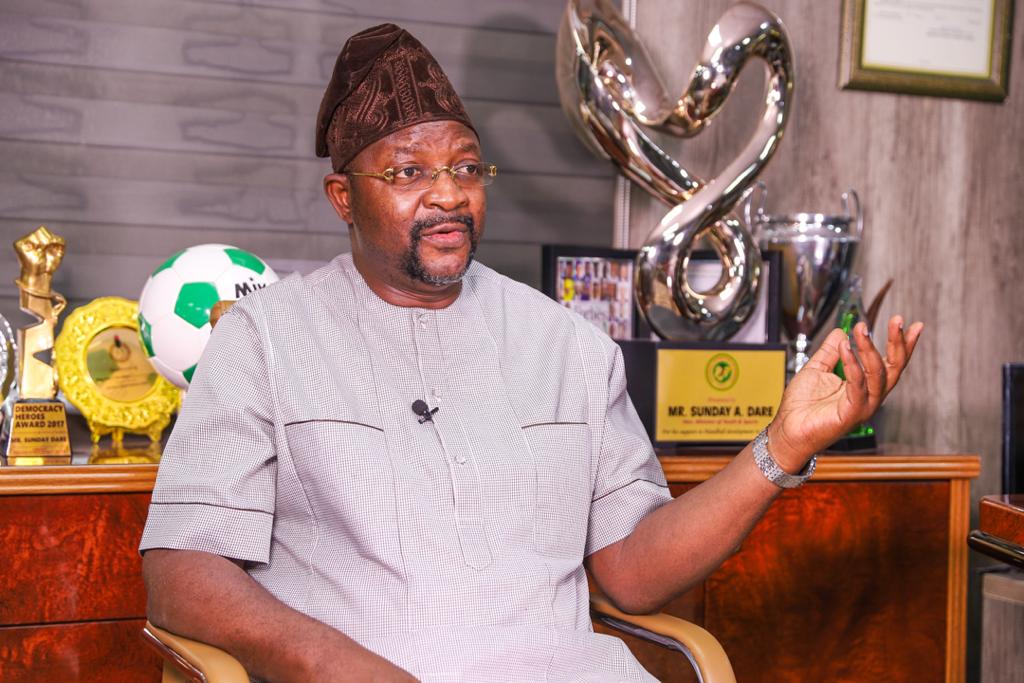 Youth Minister visits new Chief Imam of Ogbomosoland…congratulates him on his rise
Youth and Sports Development Minister Sunday Dare visited Ogbomosoland's new Chief Imam Alhaji Yunus Ayilara on Thursday to congratulate him on his new role, while praying for the wisdom and grace of make his rule peaceful and prosperous for Ogbomosoland.
The minister took the opportunity to inform his host of the many federal government projects cited in Ogbomoso. Foremost among which is the 1 Billion Naira Ecological Fund approved at the Federal Executive Council (FEC) meeting yesterday, which would enable the city to tackle drainage issues, control erosion and flooding. He revealed that the project will last 18 months, providing jobs for 250 young people and 40 engineers.
In commemoration of 40 days since the disappearance of the Soun of Ogbomoso, Dare informed his host that a table tennis championship is currently underway which would be an annual event in Oyo State, although domiciled in Ogbomoso . He also said that a multi-purpose sports center is currently under construction and will include table tennis, basketball and an indoor boxing ring, among others, when completed.
"The Sports Center will provide an opportunity for young people and sportsmen to hone their skills and will be a breeding ground for the discovery of young talents who in the near future will represent Nigeria at international sporting events," the Minister added.
In his response, Alhaji Ayilara thanked the minister for the visit, expressing the appreciation of the community for the commendable projects facilitated by his guest. He described Dare as a proud son of Ogbomosoland, an embodiment of honesty and integrity who propelled the town's name to national prominence, due to his impressive performance as a minister.
"The performance of the Super Eagles in the ongoing Africa Cup of Nations (AFCON) is a testament to the innovations in sport and youth development under your leadership," the Chief Imam asserted.
He prayed for God's protection and favor on the minister to take Ogbomoso and Oyo State to greater heights.